Ed Dabney is an internationally acclaimed clinician, presenting horsemanship and riding clinics in many areas of the US and in Europe. Ed's blending of natural horsemanship and classical equitation has made an indelible mark with students across the United States and now also in Europe, drawing the attention of serious riders searching for the lightest touch and the deepest connection with their horses irrespective of breed or discipline.
Ed has worked with horses all his life, being involved in diverse fields including the ranching, motion picture and horse training industries. Ed Dabney, a fifth generation horseman, gained rich insight and understanding into the horse's instinct and culture through his experiences in the wilds of Wyoming, where Ed conducted an outfitting business near Yellowstone, worked with Mustangs and trained horses for several large ranches.
Ed has applied his diverse skills in the training of horses for the motion picture industry and was cast in mounted action roles in major motion pictures including The Patriot, Geronimo, Gettysburg and The Postman along with numerous other films. Ed trained horses for and supervised all horseback riding scenes for the PBS docu-drama entitled "We Shall Remain" and for Fox TV's Sleepy Hollow series. Ed was featured training a Mustang in the Emmy award winning PBS documentary "Untamed Legacy".
Even though Ed is accomplished in ranch roping and training horses for cattle work on large Wyoming ranches, he has also developed his knowledge of classical 16th and 17th century equitation. As an instructor of classical riding, Ed academically relates to his students the teachings of the French masters in the patient, accurate and refined style of the classical period. Ed Dabney has enjoyed a warm friendship with legendary classical Master Karl Mikolka, of the Spanish Riding School of Vienna and Monsieur Philippe Karl of the Cadre' Noir, French Riding School. Ed has immersed himself in intensive formal training, on the instructors' level, in classical riding at the famed National School of Academic Equitation in Washington.
Ed has produced a series of instructional DVDs. His television show, "Ed Dabney Gentle Horsemanship" has been broadcast by two nationwide television networks. His training articles have been published in numerous leading magazines. Ed has been interviewed by radio stations, newspapers and magazines in the US, Australia and Europe.
Applying his unique "Six Keys to Harmony" gentle horsemanship methods to the starting of young horses, Ed was the first multiple award-winning Champion of The East Coast Trainer's Challenge competitions of the Equine Extravaganza in 2007. Ed was a judge of this competition in 2008.
Ed has conducted clinics and training for the King of Sweden's Royal Mounted Palace Guard in Stockholm Sweden, the Mounted Forest Guard of Sicily, and mounted police units in Rome Italy, Malmo Sweden and Atlanta, Georgia.
Ed was honored to have been selected by the University of Georgia to teach their senior level Young Horse Training course.
ENGEA, a large Italian national association which coordinates many equestrian activities, officially adopted the Ed Dabney Gentle Horsemanship training program as its authorized method of handling, training and riding horses.
Having worked with people and horses in various and sometimes extreme conditions and venues, Ed Dabney has been defined as an extraordinary presenter, teacher, and advocate for the advancement of rider & horse.
Dear Ed,
I just wanted to congratulate you for the high quality of your training. I am considering you as a "classical" trainer in the sense that you eliminate any constraining instrument and do not use force. Your message founded on deep knowledge and respect to the horse would be very useful on the official scene. Competition is too often meaning results at any price.
All the best to the "gentleman cowboy" you are!

Yours sincerely,
Philippe Karl
Ecole de Legerete'
"Ed's pleasant personality combined with true expertise and love for the equine partner makes him highly qualified to pass on an important equestrian culture to a new generation of riders by combining centuries-old European tradition with American Cowboy culture. I received my equestrian education for over 13 years at the Spanish Riding School in Vienna, Austria and I can only recommend Ed Dabney as a role model for many."

-Karl Mikolka Oberbereiter
Spanish Riding School of Vienna

Learn more about Ed in
this
biographic feature
Just to let you know a little of my personal background, I grew up on my Dad's horse farm where we raised and trained our own horses, taught riding lessons and boarded horses for other owners. My Dad always had a gentle, natural way around horses and treated them well. He taught me, at an early age, how to ride with lightness and how to have the proper relationship of respect, trust and leadership with my horse.
As a teenager my brother and I spent countless hours on our horses exploring the countryside looking for challenging terrain for our horses. In high school and college I began traveling the rodeo circuit competing in bull riding until I got enough sense knocked into me to quit that crazy sport!
Throughout my adult life I've been blessed to have had a variety of experiences with riding and training horses. While living in Wyoming I had numerous opportunities to observe wild horses on the open plains. This gave me a much deeper understanding of their well-developed social structure, instincts and communication.
I trained horses for several large ranches in Wyoming. On these ranches I had occasion to work with range raised colts, wild horses and problem horses. I did quite a bit of imprint training on new-born foals and weanling training. All my training was done with gentle communication and respect for the horse. My training techniques were somewhat unorthodox in the land of the "rough and tumble, old cowboy ways". Over time the results of my training techniques were evident in more dependable, calmer, smarter and braver horses.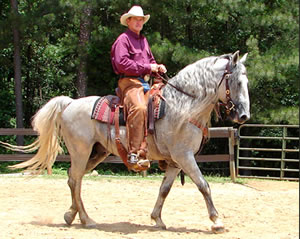 As a cowboy, hunting guide and licensed outfitter in Wyoming, I have lived deep in the Rocky Mountain wilderness for weeks at a time. Some of the rugged conditions and extreme situations I have endured with my horses have given me a deeper understanding of the horse as a partner along with a true appreciation for the horse's strength, courage and tenacity in the face of hardship. My Dad always encouraged me to write a book about my adventures as a wilderness horseman. I would like to do that someday to recount to others some of the amazing experiences I have had such as being on horseback and falling through the ice of a frozen lake above timber line at 11,000 foot elevation, close encounters with Grizzly Bears and Mountain Lions, being attacked on the open plains by a wild Mustang stallion, being trapped with my horse inside a raging prairie fire which burned over 800 acres, roping and rescuing a horse stuck in quicksand and being caught in a white-out snow blizzard and having to trust my horse's sense of direction to make it back to camp, These experiences and many others taught me to trust God, myself and my horse because in the wilderness there is no 911 to call for help.
Thirty-five years ago I made a decision to trust in Jesus Christ as my Lord and Savior. Since then I have committed my life, my family and my business to His glory. God's word has given me hope, guidance, and peace in my life.
"Trust in the Lord with all your heart, lean not unto your own understanding, in all your ways acknowledge Him and He shall direct your path." Proverbs 3:5-6
-Ed Dabney